UPDATE AUG. 14: Little 'Cash' and his brother 'Mau-Mau' are now entering the cat equivalent of the 'teen years'! They are the biggest pest cats I have ever had! Cash insists on nursing on my fingers and ears constantly. He wakes me up several times a night licking my nose or patting my face. Not like I get a good nights sleep anyway! My bed usually holds me and 2, sometimes 3 dogs, another one sleeps underneath and now two wild cat kittens! Hardly room for me anymore! They are so cute but a BIG pain. I have decided to keep the two of them because we are so bonded even though I had really intended to find them homes. I just love THEM and can't give them up!!! I will be adding some new pictures very soon!
AND HERE THEY ARE!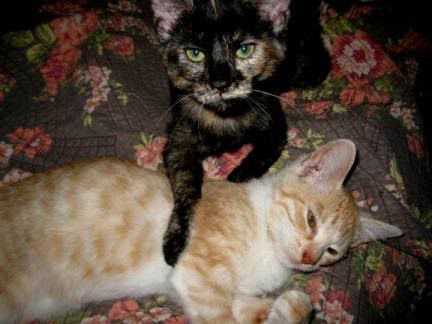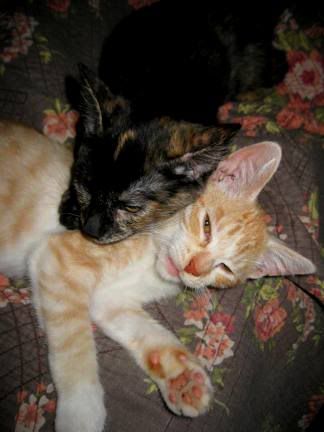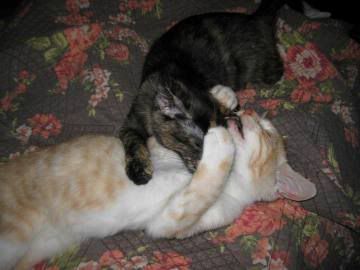 A BIG hello to all my friends and customers! I'm back from my recuperating vacation! My knee injury was needing surgery and that required me to take a much needed rest. I should have had it done years ago when I first injured it skiing. (I fell off the ski lift-DON'T LAUGH!!!) but I toughed it out. It only bothered me sometimes but I re-injured it while on a 'rescue mission' to save orphaned trapped baby kittens. The babies are all right, cute chubby little bottle fed angels that are in my face ALL the time. I'm their mom! In fact they are both trying to help me type right now!
This is a short post today-just to let everyone know I'm back and alive and will be listing lots of marvelous things very soon. I need about another week or two to get up to speed and then watch for a massive listing push! I will be returning emails to many of you soon! Thanks for your well wishes!
The pictures above show my one little 'pain in the knee' who my niece has named 'Cash'. Such a sweetie but now bottle weaned under extreme protest. I can't tell you how many times I've awoken from a drug induced sleep to the two of them standing on my face and licking my nose. They quickly learned how to get out of their box and after I woke up a few times to them snuggled up against me, I did not have the heart to lock them up. I gave up and gave them a pillow to sleep on next to me.
I have two local investigations to go on as soon as I'm up to it. My friend 'D', also an eBay metaphysical seller, has been visiting and photographing a local Gold Rush era cemetery and has captured some wonderful pictures of spirit activity. There are actually open crypts to investigate and photograph. 'D' practiced in Sedona, AZ for many years so he is very into New Age concepts and Native American practices as well as spiritualism. I have not been able to walk well enough to go with him so I'm massively jealous.
The other place my small group will be visiting soon is an abandoned farm house that had, according to local and family lore, a violent mass murder occur. I can't wait to go and have made the others wait for my knee to heal. AND while we are on the subject of mass murder, we have plans to visit the local orchard where mass murderer Juan Corona buried many of his victims. A ritual spirit summoning and seance is planned by one of my friends and I have plans to use a special spirit communication vessel of my Grandmothers.
I will post more tomorrow, I have lot's to talk about, including some more thoughts on the Mega-Meta-War that seems to be raging away! So much negativity from some people, it's sad and it hurts us all!